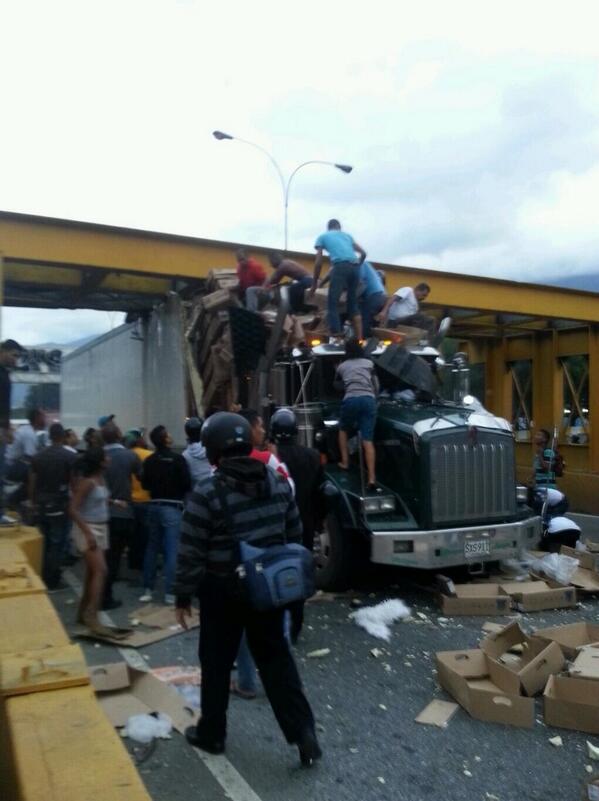 Women and men both trying to loot the truck. See all
the open boxes already spread around. They did not
come from a spray through the truck cabin....
For those idiotic enough to think that Chavez opened a new era and ushered in a new man: you are right but you are not going to like it.
This morning a truck broke the security barrier in a Caracas highway exchange and got stuck in the middle of the highway. The truck carried packs of frozen meat. It was 6 AM. Within minutes there were already people trying to loot the truck instead than trying to save the driver,
who ended up dead later
. The cops came and stopped for a while the actions. But since the Caracas main highway was paralyzed, motorbikes came from all around and started trying to rob all the unhappy drivers stuck in traffic.
At 9 AM about 300 bikers arrived and tried to overpower the police security people
who had to call for reinforcement. Of course, the idea was to loot the truck...
The disaster blocked the whole city all the way until downtown
(photo included in the link)
So there you have it, 14 years of Chavez socialism and we are left with a large group of people who think that they can grab whatever they want, at any price, shocked, SHOCKED when actually some authority tries to explain to them that no, they cannot do so. Note: the society of motorbikes is a creation of chavismo who has subsidized them heavily in the early years because they were their storm troopers to quickly go around town to crush any anti Chavez protest. Remember Lina Ron? Now they are out of control, a threat to regime itself. One shudders at the idea that suddenly 300 bikes could appear in a neighborhood and start looting while the cops look helpless. Because they are armed, you know, the bikers, better than the cops probably.
The problems we face to rebuild Venezuela are much, much worse than a matter to find money for reconstruction, putting finance in orders, supporting business to produce and hire people. We have become a society of looters, robbers, abusers, drug traffickers, and what not, to a degree of cruelty and violence
that leads us to prison riots where the hearts of the victims are pulled out of their chests
.
Viva Chavez, carajo!